FREE SHIPPING
Get free next-day shipping on our desks Canada-wide. It's hassle-free. Delivery is 5-7 business days but shipping companies are experiencing a backlog so please be patient.
10 YEARS WARRANTY
Get 10-year manufacturer warranty with all our desks.
We're better than our competitors.
Our desks are designed to carry more weight and extend to a wider height-range.
And they do that without breaking the bank. When you buy desks from Costco, Ikea and Amazon, the height ranges are insufficient. Our Office Pro Desk will offer a whopping range from 23.6" to 49.2"!
When you compare the features of Full Stack Desks with the competitors, you see the value. In fact, we have put our desks side-by-side for you. See how our desk matches with our competitors.
See how we compare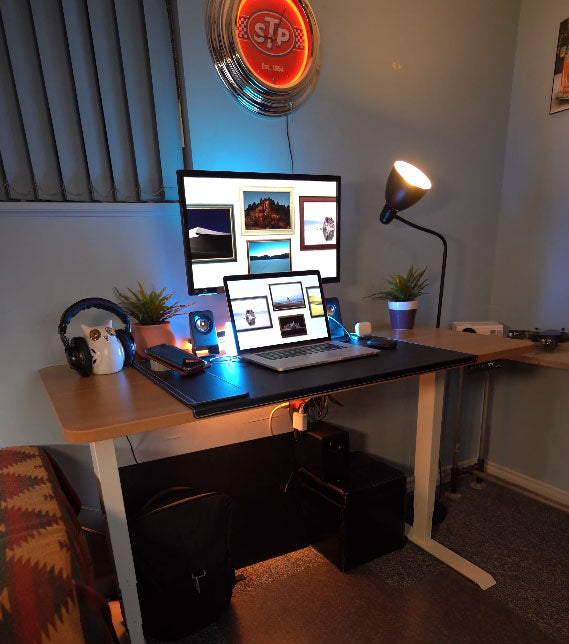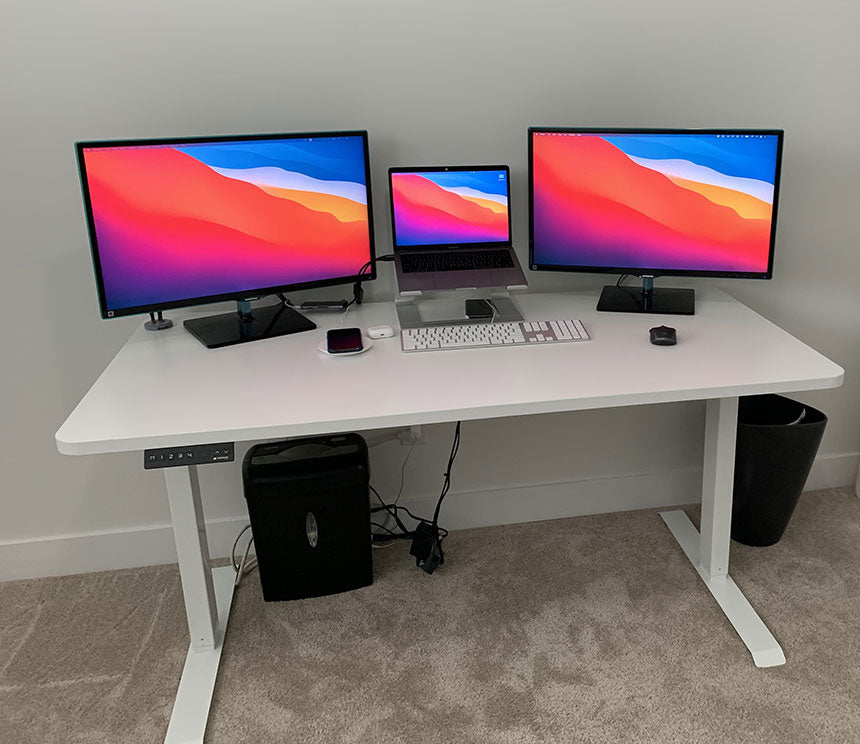 A DESK THAT YOU CAN SHOW OFF.
Highly functional. Highly stylish. Industrial strength.
Our desks will offer weight bearing capability of up to 300lbs! That's almost double that of our competitors.
Your desk should be something you're proud to show off. That's why our stand-up desks come with a variety of design options and are made from the highest quality of materials to give you an ergonomic desk that looks just as good as it works.
Better Than Costco
"Really surprised by the build of this desk, the instructions to put it together and the maxed out height. Can't wait to work on it my backs been killing me. Came within a few days of ordering and they packed up my back steps. Glad I didn't buy a cheapy from Costco"
— Home Grown Fitness Equipment
"The Full Stack Desks have made working from home so much easier. A simple push of a button and I can go from sitting to standing and allows me to change positions allow for better concentration and work habits."
— Joe D.
"Great quality desks for a great price! I love my new stand up desk, they came and installed it for me really quickly and had it up and running in no time. There are 4 presets you can set the height to, which is easy to set. Moving the desks up and down is smooth and quiet and the desk is very sturdy. Customer service was great, they kept me up to date on what was happening with my order at all times."
- Rachel C.
"Standing desk work as expected. High quality, local business. Great desks."
- Javier M
"Love my new standing desk! Looks great and movement is quick and smooth. Assembly was simple and straightforward and it feels rock solid once put together."
- Todd H
"Great product. Well made, high quality. Can't say how much better my back is having used a standing desk!"
- Alan B.
"I ordered a smaller standup desk for my home office the size is perfect for smaller spaces and it was easy installation. I would recommend!"
- Bessie
"Fast delivery within Greater Vancouver. Bought Pro desk, no complaints, good quality."
- Aleksandar S.
TRUSTED BY CANADIANS.
Full Stack Desks are the proud partners of the following brands.
Our Blog
Find our latest announcements and blog posts.
Temporary or not, we don't know yet, the truth is that today there are more people working from home than ever before. For these people, comfort, as we mentioned earlier in the article that talked about the
5 benefits of standing desks
, is the most important thing, although many also think that organization and decoration is also a key part of a perfect home office.
Standing desks are the hottest thing in the workplace and home office right now and there are a lot of options in the market. Making the right decision can be overwhelming, so we created a first-time buyer's guide for you.
So, what should you consider when buying your first standing desk? Here are a few things to keep in mind.
If you're like most people, you sit at a desk all day, and let's face it. It's not good for your heart, it's not good for your back, and it's not good for your spirit. It's no secret that modern work environments can be a little sedentary. Whether it's sitting at a desk all day, or sitting in an office chair for a few hours every day, our career choices have contributed to a sedentary lifestyle for many. Luckily, there are ways to combat this, and one way is through the use of a standing desk during your workday.